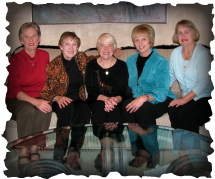 My critique group of 18 years
In the past few weeks I've been involved in an on-line discussion about critique groups and whether or not they are of real benefit to writers. These discussions have led me to revisit the critique groups I've been involved with during my writing career.

My first group offered more support than real criticism. We met weekly. All of us were beginners. And for the most part the comments were "fluff"--a lot of accolades and encouragement to keep going, but little input based on the principles of good writing.

Fortunately, I discovered Jim Frey's How to Write a Damn Good Novel which clearly outlines those principles. When I discovered he was giving a workshop on the Oregon coast, I signed up. My ideas about critique groups changed forever.

I came home eager to "educate" my group on principles like conflict--characters who have opposite agendas and are trying hard to get what they want. (This makes conflict a lot easier to write) Stakes--the characters have something important to lose if they don't get what they want. Characters who are functioning at maximum capacity. An antagonist who is a worthy opponent to your protagonist. Rising tension. Descriptions that reveal character. And perhaps one of the most important, your characters are transformed by the events in your story. They are no longer the same people they were when the story began.

If you are clear on your premise (what you want to prove in your story) it makes it easier to decide which scenes move your story forward. Dialogue should be indirect and conflicted. Use narrative to reveal necessary, but sometimes boring, information. In good fiction, there are no "conversations". Periodically, stop writing and ask yourself this question: Do I have a well-motivated character overcoming obstacles in pursuit of a goal? If you do, many of the other principles fall into place.

When I returned home from my first Jim Frey Workshop and tried to incorporate some of these ideas into my critique group, the other members were resistant. Eventually, I dropped out. A bad critique group is worse than none at all.

Eighteen years ago, four other like-minded women who wanted input based on the principles outlined above, formed a critique group. Three of us now have agents and published novels, short stories and poems.

Marjorie Reynolds, the most successful of the group, taught writing at the University of Washington and now gives workshops on the art and craft of writing fiction. I learned something very valuable from her called Central Dramatic Story Question. The main story question that drives the plot and needs to be answered by the end of the book. In one of my own novels, the CDQ is: Will Catherine Henry face a past in which she murdered her father, in order to save the life of her 6-year-old son? I found CDQ easier to understand than the elusive concept of "premise". Once you know the CDQ of your novel, it is easy to determine what scenes belong in your manuscript. Does your scene move the story towards the answer?

The number one most important rule of our critique group: No one is allowed to defend their work. It wastes time and is counterproductive because your critics will become reluctant to tell the truth. The writer is never obligated to incorporate a critique into his work if he doesn't believe it will make the manuscript stronger. In addition to the core group (pictured above) we now have five additional members. We gather for an entire weekend once a month. And we work hard from 9 a.m. until dinner, with a short break for lunch. Each member has the opportunity to present 2 chapters of about 10-12 pages each. I drive 500 miles round trip in order to attend. We meet in Portland. We have members who come from as far away as San Francisco and Vancouver, BC. The critique we receive is worth it. My scenes are always stronger after incorporating the input of this amazing group of writers and critics. And that is what makes a critique group great.