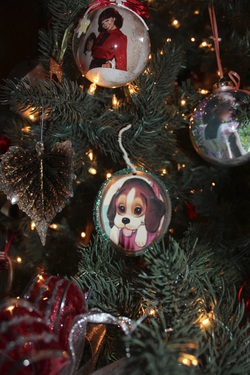 The puppy ornament you see in this photograph is one my toddler son, David, made as his Christmas present to me when he was two years old.

The years have passed way too quickly and David has graduated from making ornaments to college and law school. He has a wife and two beautiful children.

But each year as I hang this puppy on the Christmas tree, the clock spins backwards and I see him again. A little boy and the margarine container lid he rolled in green glitter. The proud look on his face as he handed it to me on Christmas morning. Like a good mom, I smiled, hugged him and hung it on the tree. I didn't realize then how much it would come to mean. This puppy has hung on my tree for forty years. It has come to represent what matters most to me about Christmas.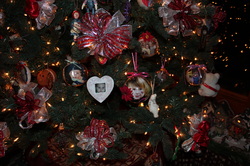 Don't get me wrong. I admire beautiful trees with matching golden, blue or red balls--I love the symmetry and perfection. But that puppy ornament changed everything for me. And now my tree is about preserving the memories. Each year as I hang ornaments I've made, often utilizing photos, I remember the past and the people I loved and still do. The little girl with the heart sticker on her cheek is my granddaughter, Shenoa. She is thirteen now, but the memory of the three-year-old who pasted stickers on both our faces lives on and makes me smile again each year.


I watched my children and now my grandchildren grow up in the glass ornaments where I have preserved them. The ornaments aren't perfect. Maybe they aren't beautiful to anyone except me, but they capture a moment. We lose our moments so easily as life slips by. We forget what we should hold most dear.

Each year as I decorate the tree, I remember my birth family--most of whom are now dead. I rejoice in my children and grandchildren. And the process makes me believe in a future where little boys and girls will make puppy ornaments for their moms. If you have one, don't let it go.

So what does this have to do with writing? I'm not sure. Maybe nothing. But if a photo speaks a thousand words, let yours speak to you. Don't hide them in drawers. Preserve your memories. Maybe hang them on your tree. In the end, these precious memories might be everything. What do you think?


May you find peace, happiness and joy in the little things this holiday season.