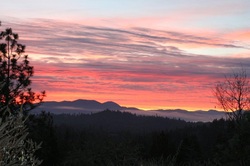 On this early morning, as I stumble to my computer, turn it on and gaze out the window while the computer boots up, this is what I see: The sun rising on a brand new day. I'm so lucky to live on the edge of protected land that most likely won't be developed in my lifetime. Every day, I feel grateful. While I'd never be able to capture the beauty in words this view, on a daily basis, inspires me. And so, as the sun lifts its sleepy head over the mountains this morning, I will write my overdue blog.

This will be a different entry for me--much more focused on the craft of writing than on my life. But, in many ways, writing is my life. I, like many writers, put words on a page in order to make sense of things that sometimes seem impossible to understand. And, in the process, I often find understanding. I write to give my life meaning. To preserve something so easily lost.

I've just returned from a weekend in Portland with my critique group. We're all novelists actively writing stories. We come together once a month to share scenes and to offer up critique in the hopes we will help each other make the work the best it can be. Sometimes we bring scenes that aren't working--hoping our colleagues will help us isolate the problems and have suggestions on ways to fix them. It's a big responsibility. And one that none of us take lightly. I've come to believe our own writing improves the more we critique others. Most writers are blind to their own flaws. Critique is an important part of the process.

Unlike "normal" people, writers need and want the truth. It's hard to deliver. We're accustomed to telling someone we care about that they don't look fat in that dress, even if they do. That we love the new paint color in the living room, even if we think it is hideous.

The more serious you become as a writer, the more you want honest criticism. Praise, though we all love to hear it, doesn't ever make a story stronger.

For years I've been studying under James N. Frey (probably best known for his book, How To Write a Damn Good Novel). In my opinion his craft books are some of the best and most accessible available today. Over the years, he's become my mentor and my story coach.

Whenever possible, I attend his intensive workshops. They are limited to 8-10 participants. We read a scene out loud and each person around the table offers his critique. Jim gives his input at the end. For as long as I've known him, more than 20 years, I've been awed by his ability to size up a story and know exactly what it needs. At a recent workshop, he shared some of his secrets.

1. Respond emotionally to the reading. Are you bored? Wowed? Gripped? Does it feel as if the scene is too long? Ask yourself why. If you are bored, it is most likely because the piece lacks conflict. Conflict (opposition of character's wills) holds a reader's interest and as each character works hard to get what they want (trying different methods) the layers strip away and their true self is revealed.

2. Look for a story question in the opening lines of each scene.

3. At all times in the story, there should be a well-motivated character overcoming obstacles in pursuit of a goal. Ask yourself who or what is the obstacle. If the goal is clear and believable and the obstacles are real, the scene will hold the interest of your reader--even if it isn't perfectly written. Every character in every scene should have an agenda (a goal) they are pushing.

4. Are the characters changing as a result of the events/conflicts in the scene? Rising conflict is the best way to strip away the levels of self defense and reveal character. Whenever possible show characters' feelings through their actions and dialogue, not by telling the reader.

6. Is the dialogue fresh, indirect, clever and in conflict?

7. The end of the scene should propel the reader into the next scene. And the emotional state of the characters should be changed from the way they were at the beginning of the scene.

I hope this blog helps those of you who are writers wanting to do a better job of critiquing both yourselves and others. I hope it will amuse and enlighten those of you who are readers curious about the writing process. Writing a novel is arduous and so different from life. Readers want to read about people who are heroes and are off the bell curve--extreme characters who will say and do things "normal" people won't.

It is our job, as writers to provide our readers with heroes who will reach beyond the pages of the book, tug at the heart and inspire them to be more than they believe they can be.