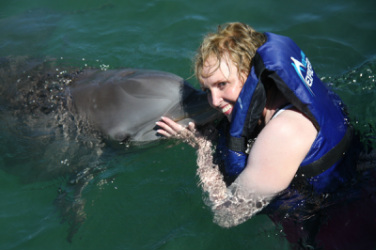 This is not a blog about writing—although I am writing it because I never want to forget the way I feel at this moment and writing is the best way to assure the memory is preserved. There are photographs to help me remember, of course, but I'm a writer and so I want the words, too. Someday, when I'm old (well older) I want to reread this blog and feel these feelings all over again.

Today, I had one of the most amazing and magical experiences of my life. And I, who call myself a writer, am stunned by it—almost at a loss for words. But not quite! Today, I swam with the dolphins in Punta Cana, Dominican Republic. Ten of us jumped into the turquoise waters of the Caribbean and spent more than two hours romping and doing acrobats with two, adorable and well-trained dolphins. One by one, we floated on our stomachs. Each dolphin butted a velvet snout against the bottoms of our feet and pushed us across the water at amazing speeds—like body surfing with lots of motor power and virtually no waves.

We humans partnered up, linked ankles and held out our arms while the two dolphins spun us in circles. I felt like Ester Williams in one of her old, water-themed television specials—straight from Cypress Park, Florida. The dolphins swam on either side of me, allowing me to grab a fin and take a ride—water skiing without the skis. One of them even did a little dance—me holding onto his fins and both of us shaking our booties.

I was in awe of their beauty, their mischievous nature, their intelligence and their ability to show affection and humor. When one of us humans messed up our role in the production, the dolphin seemed to smile and then gladly provided us with another chance. At the end, I got a kiss on the cheek and another one smack on the lips. At my age, I've been kissed a few times by frogs, but never by one of these magnificent creatures.

So this is my advice to you. If life ever provides you with the opportunity to swim with the dolphins, grab onto it. You won't regret it, I promise. The ten of us ranged in age from about forty to eighty years old—and everyone had the time of their lives. And if you do get the chance, take a moment to record your feelings about the adventure. It will help you remember it better than photos. It just doesn't get any better than this.