AVAILABLE FOR PREORDER FROM TIRGEARR PUBLISHING

On a bench at the edge of the Lithia Park playground, someone is stalking two-year- old Emily Michaelson as she plays with her eighteen-year old half-sister, Brandy. The child's laughter curves through the sunlight, as if on wings. The stalker is more enamored than ever, but aware of Brandy's vigilance with Emily, knows a kidnapping won't be easy. Planning to gain Emily's trust, the stalker gives her a necklace—little girls love pretty things. A few days later, Brandy and Emily arrive at the park for the Children's Health Fair. When the stalker sees them enter the public restroom, the opportunity is seized.
Not long after Emily's disappearance, Detective Radhauser finds her rainbow- colored sneakers in Ashland Creek, their laces tied together in double knots. Brandy's father and stepmother blame her for Emily's disappearance. Radhauser feels sorry for Brandy, but insists she stay out of the investigation. Brandy can't do that. She is obsessed with finding out who took her little sister, and why. Will Emily be found in time?

Click on cover photo to preorder at half-price. $2.99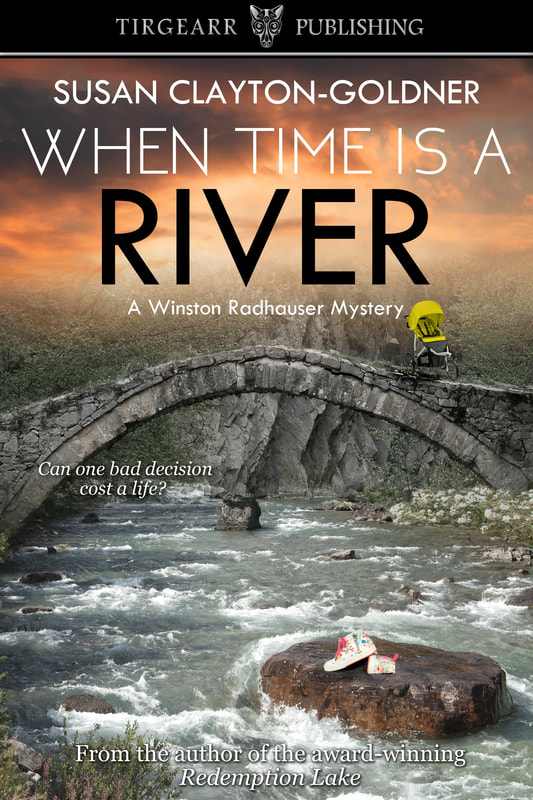 ---











​

---
REDEMPTION LAKE is set in the desert backdrop of Tucson, Arizona. Eighteen-year-old Matt Garrison is harboring two deadly secrets: He's hiding details of his 12-year-old cousin's death. And he's made the monumental mistake of having had drunken sex with his best friend's mother, Crystal Reynolds, whom he finds murdered in a bathtub of blood the next morning. Fear of losing his best friend and past guilt over his cousin cause Matt to act on impulse to hide his involvement with Crystal. Detective Winston Radhauser knows Matt is hiding something. Matt's world closes in on him when his father is arrested for Crystal's murder and his best friend breaks off their friendship. He is certain his father is being framed and is determined to find the real killer. When his father pleads guilty at his arraignment, Matt knows he is trying to protect his son. Devastated and bent on self-destruction, Matt heads for the lake where his cousin drowned—the only place he feels can truly free him. Are some secrets best kept buried?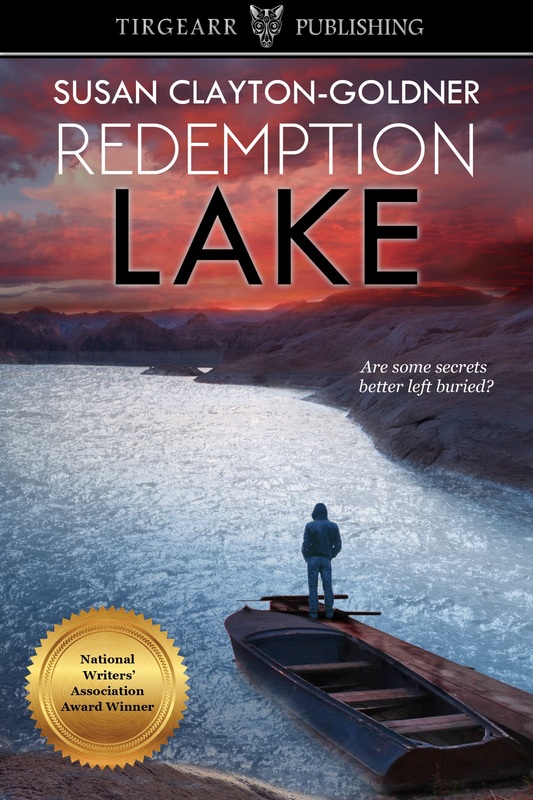 A Bend In The Willow

Willowood, Kentucky 1965 - Robin Lee Carter sets a fire that kills her rapist, then disappears. She reinvents herself and is living a respectable life as Catherine Henry, married to a medical school dean in Tucson, Arizona. In 1985, when their 5-year-old son, Michael, is diagnosed with a chemotherapy-resistant leukemia, Catherine must return to Willowood, face her family and the 19-year-old son, a product of her rape, she gave up for adoption. She knows her return will lead to a murder charge, but Michael needs a bone marrow transplant. Will she find forgiveness, and is she willing to lose everything, including her life, to save her dying son?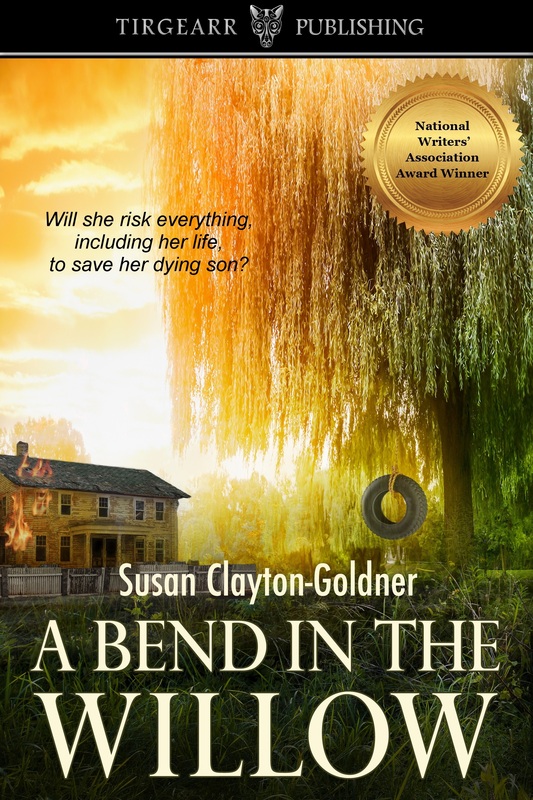 amzn.to/2nI7gV4




PRAISE FOR A BEND IN THE WILLOW

A Bend in the Willow is written by the award-winning poet, Susan Clayton-Goldner, and published by a small, elite publisher. You might get the idea this is an arty book full of smooth writing, striking images, great metaphors, and as exciting as a collection of modern poetry about meditations on painting your toenails. You'd be right about the smooth writing, striking images, and great metaphors, but you'd be dead wrong about the level of excitement, A Bend in the Willow is as gripping as a Jason Bourne thriller with the accelerator stuck. It begins in Willowood, Kentucky where Robin Lee Carter is terrorized repeatedly by her drunken father, a poker friend of the local sheriff. After an especially brutal night, Robin takes justice into her own hands. In a far-away city she reinvents herself and years later we find her living as Catherine Henry, happily married to a medical school dean. They have a five-year-old son diagnosed with a deadly form of leukemia. In a stunning plot twist, she has to return to Kentucky in search of relatives to donate bone marrow for her son. Her father's old pal, the sheriff, is still in office and determined to arrest her for murder. A Bend in the Willow is about a woman who will risk everything--career, marriage, even her life--to save her son. It's that rare story that is not just thrilling, but has heart.—James N. Frey, Internationally best-selling author of How to Write a Damn Good Thriller

Powerful and heartbreaking, A Bend in the Willow tells the story of a young woman who must reveal horrific secrets from her past to save the life of her five-year-old son. Catherine Henry faces a perilous homecoming and murder charges when she seeks aid from her bitter, hostile brother who, two decades before, had risked his life to rescue her from their burning childhood home. Susan Clayton-Goldner beautifully renders an account of fear, pain and tragedy alongside redemption, hope and compassion—and most of all love in this touching family drama. — Marjorie Reynolds, author of The Starlite Drive-in

A fierce and beautifully told story about an abused girl who meets violence with violence then disappears only to return, twenty years later, in order to save her child. Clayton-Goldner has a gift for honestly portraying both heartbreak and hope. I loved it.—Lily Gardner, author of Betting Blind

Susan's skillful writing immerses you in a moving story guaranteed to touch your heart. - Ray Rhamey, "Mastering the Craft of Compelling Storytelling"

Poetic and potent, this debut novel is a must-read for anyone seeking truths about how we transcend our past. As a daughter first abandons her family to save herself, then returns years later to save her son, she discovers that facing her most broken places is the path to redemption, forgiveness, and true healing. — Sage Cohen, author of Fierce on the Page

A Question of Mortality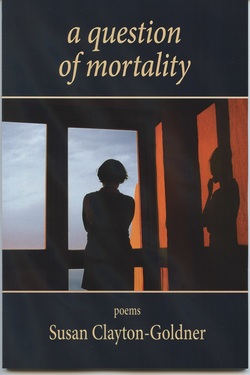 Ultimately what makes poetry good lies inside the reader's reaction to it. Susan Clayton-Goldner paints a mind picture and evokes emotion from the heart that often leads to goosebumps. She takes ordinary moments and turns them into universal truths. Her poems honor the dead, enlighten the living and dig deep into the dark mysteries of childhood. They are affirmative, redemptive and purifying. This collection not only illuminates, it shines."

James N. Frey, internationally acclaimed writing coach, author of How to Write and Damn Good Novel and The Key.


---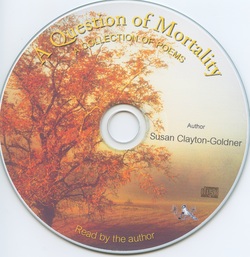 "
A Question of Mortality
takes us, step by step, through the difficult terrain of family history--its griefs, its losses, its regrets--offering up image-rich lines that "go by foot/into celebration or sadness...." This collection is the child of memory, its poems rising from that place where recollection does its epiphanic work. In the quotidian, Susan Clayton-Goldner's voice seeks and finds the mystery that restores both the poet and the reader.
Paulann Petersen, Oregon Poet Laureate
Available through Amazon
The list price for the collection and CD is $15.00. If you prefer a copy signed by the author, please send a check to: Susan Clayton-Goldner, 330 Seclusion Loop, Grants Pass, OR 97526. I will cover the postage and handling.
---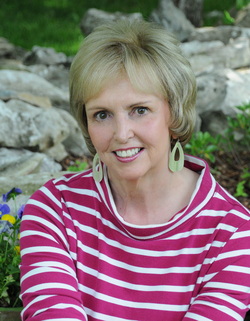 ---
Murder At Cape Foulweather
A Comic Mystery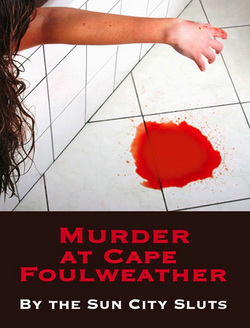 The five Sun City Sluts, forty-ish, fast and full of hell, attend a writing workshop at the remote Cape Foulweather Lodge on the Oregon coast, each hiding a secret they're afraid to spill. The first night, a destructive storm hits, all power is lost and one of their classmates, Orchid L'Toile, meets a fate they consider worse than a mere death: a bloody murder without adequate makeup while naked in the bathtub. The Sluts must find the killer or become victims themselves.
Murder at Cape Foulweather
is available through Amazon in both Kindle and paperback format.
Please visit the Sun City Sluts Website
and the other authors:
Marjorie Reynolds
and
Martha Miller
---
Just Another Heartbeat
A Story of Loss and Reunion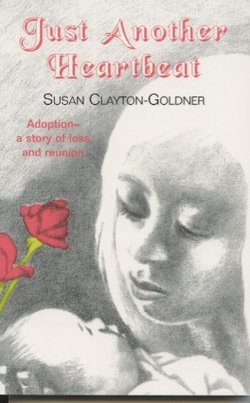 Jessica Fenton's life, so carefully constructed to protect her secret, turns inside out when Gwen, the daughter she gave up for adoption, telephones. Jessica must tell her husband and her friends. But how will she justify twenty years of silence and deceit? Eventually, she finds the courage to face her past. And together, Jessica and Gwen embark on a redemptive journey back to each other. Just Another Heartbeat won an honorable mention in the Hemingway First Novel contest and was a finalist for the Heekin Foundation fellowship.
---
Finding A Way Back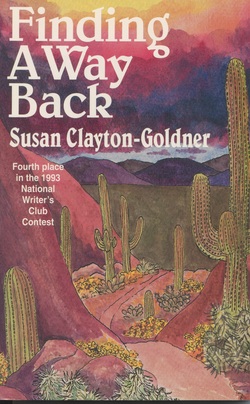 After the suicide of her husband, Bryan, Kelly Hadley is left to unravel the twisted web of addiction and deceit he left behind. She engages the help of Bryan's only brother, Michael, and together they learn that wiser, maybe even better people can emerge from tragedy. They discover new truths about themselves, their relationships with their parents and children, and the meaning of friendship. Kelly and Michael come to understand love, betrayal and what it means to be human.
Finding A Way Back
was a finalist for the National Writers Association contest.
A Question of Mortality, Murder at Cape Foulweather, Just Another Heartbeat and Finding A Way Back
are available on
Amazon.com.
---