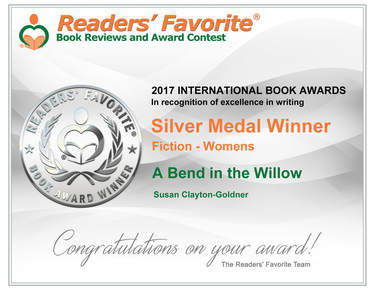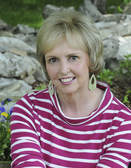 ​I write this blog today with a grateful heart. It's been a banner year for my first novel, A Bend In The Willow. And I pinch myself every day to make sure I'm not dreaming. Many of you know that I've been seriously writing fiction for decades. I had more than my share of rejections. But I kept sending out my manuscripts. And then, out of the blue, a publisher said, "YES. We love your novel and we'd like to offer you a contract."

Tirgearr Publishing, a small press in Ireland, released A Bend In The Willow in January 2017. Since that time, it has received 100 reviews on Amazon, averaging 4.7 stars and won a first place award in the Literary Novel category for its amazing cover, designed by one of Tirgearr's cover artists, Elle Rossi. Just to blow her horn for a moment, Elle's cover design for my second novel, Redemption Lake, took a second prize in the Mystery genre.

Just recently, I learned A Bend In The Willow won a silver medal in the Readers' Favorite Awards for 2017. Pinch. Pinch.​

Writing is often a lonely task, requiring isolation from family and friends and long hours at the computer. There were many years when I wondered if it was worth it. I considered giving it up. Becoming a full-time quilter or stained glass widow maker. But there was no way I could stop writing. I tried once and became physically ill. I was born to do this.

And I'm grateful to so many people who helped this dream come true for me. To my writing instructors and my mentor, James N. Frey. To Kemberlee and Peter Shortland, publishers at Tirgearr, for taking a chance on me, to Lucy Felthouse, my editor, who keeps me honest and catches my stupid mistakes. And to my family for understanding what this writing dream has meant to me.
​
I no longer ask myself if the hard work and long hours are worth it. I am secure in the knowledge that I'm doing what I was born to do. But a little validation from readers, reviewers and judges is a great boost and keeps me going.

My advice to writers: don't give up on your dream. Tenacity is the best gift a writer can receive. Believe in yourself. And keep writing. The more we write, the better our writing becomes, along with our chances for success.

I send out so much gratitude to my publisher, my readers--especially the ones who took the time to post a review or write me a note. You are the reason I keep writing.

​My latest Detective Radhauser novel, A River of Shame, will be released early in 2018. ​A Bend In The Willow, Redemption Lake and When Time Is A River are available on Amazon. Just click the covers below.